CRDC Board of Directors & Staff
"

Elm Grove Companies has turned a building once used for drug and alcohol rehabilitation into a 32-unit mini-flat style apartments, a first of its kind in New Hampshire. With financing assistance from …

"




Read Full Testimonial
Signup for our Newsletter!
Board of Directors
| | | |
| --- | --- | --- |
| Name | Position | Term |
| HENRY VEILLEUX | President | 2023 |
| STEPHEN HEAVENER | Executive Vice President | no term |
| RYAN AUDLEY | Vice President | 2024 |
| JOSEPH CONWAY | Treasurer | 2023 |
| THOMAS SULLIVAN | Secretary | 2022 |
| SUZANNE BRUNELLE | Director | 2024 |
| CARLOS BAIA | Director | 2024 |
| STEVE KORZYNIOWSKI | Director | 2024 |
| JOSEPH BATOR | Director | 2022 |
| DAVID PETERSON | Director | 2022 |
| SUSAN DUNTON | Director | 2023 |
| KEN KOORNNEEF | Director | 2023 |
| JANET ACKERMAN | Director | 2022 |
|   |   |   |
Staff
Stephen A. Heavener, Executive Director
Mr. Heavener has more than 40 years of economic and community development experience as Executive Director of programs in New Jersey, Vermont, New Hampshire, New Mexico, Wyoming and Virginia.. He supervises all staff, promotes CRDC financial assistance programs, assists with loan package structuring, identifies and screens potential Brownfields projects and works closely with towns, cities, and counties throughout New Hampshire on economic development consulting. Mr. Heavener also identifies and manages real estate development activities and develops new programs and policies in consultation with the Board of Directors. He earned the Economic Finance Professional designation from the National Development Council in 1990 and was a Certified Economic Developer as designated by the International Economic Development Council from 1994 to 2018. He earned a Masters in Public Policy from Rutgers University. He joined CRDC in November 2007. He is a native of Vineland, New Jersey.
Elizabeth M. Sweeney, Senior Loan Officer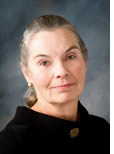 Ms. Sweeney Joined CRDC in May 2008. She is responsible for CRDC's focus on direct business lending and SBA 504 Loans, while assisting with the management of existing portfolios as well as expanded lender outreach and RLF marketing, economic development consulting, Brownfields project management and grant writing. Ms. Sweeney worked for New Hampshire Community Development Finance Authority since 1998 as manager of the CDBG grant program and NH tax credit investments. She also has worked closely with the ten Regional Economic Development Corporations throughout New Hampshire and she adds tremendous value to CRDC's efforts to broaden its collaborative activities. Sweeney has also worked as credit manager and controller for several private firms adding to her knowledge and familiarity with private business operations and finance. She also has substantial commercial lending experience having worked at First NH Bank and BankEast in Manchester and Marine Midland Bank in New York City. She earned an MBA in Finance from NYU.
Jennifer Boulanger, Loan Officer
Jennifer Boulanger has over 25 years of commercial lending experience working for banks and regional development corporations in New Hampshire. Jennifer completed a commercial lender training course in the early 1990's and later worked in all aspects of lending including commercial credit underwriting, commercial credit review, commercial loan officer, commercial credit training manager and as a volunteer managing outside loan funds for non-profits. Jennifer received her BS in Business Administration (accounting) and MBA from UNH Durham (finance) and as well has earned the designation of Certified Economic Development Financial Planner from the National Development Council (September 2015). Jennifer is agraduate of the Greater Concord Leadership Class of 2006 and Lakes Region Leadership Class od 2008. As a loan officer, Jennifer provides such services as credit analyst, underwriting, portfolio manager, business development officer and risk manager. In the Spring of 2018, Jennifer was recognized by the US Small Business Administration as the New Hampshire SBA Financial Services Champion. Jennifer resides in Northwood, NH with her husband and two children. She joined CRDC in October 2010.
Chuck Gilboy, Business Development and Loan Officer
Chuck Gilboy joined CRDC in March 2022 with extensive experience in mission-based lending and regional development. Chuck is responsible for strengthening CRDC's business development efforts while working directly with New Hampshire's banks to help identify opportunities for CRDC to provide needed gap financing or SBA 504 loan opportunities. Chuck received his undergraduate degree from Elon University in North Carolina and continued his education at the University of New Hampshire where he earned his Master of Business Administration. Chuck was a loan officer with Grafton County Economic Development Council in Plymouth, NH. Prior to that Chuck was a business advisor with the New Hampshire Small Business Development Center (SBDC) where he led the agency's education platform in COVID-19 Relief Programs. Chuck also played an integral role at the New Hampshire Community Loan Program as a loan officer. Chuck resides in Concord, NH and is currently a Board Member and Treasurer of the Concord Food Co-op.
Kimberly Imbriglio, Loan Portfolio Manager
Ms. Imbriglio joined CRDC in August 2005. Her primary duties include servicing both CRDC's SBA 504 and Economic Development loan portfolios, preparing loan closing documentation, and attending loan closings. She also manages all CRDC bookkeeping tasks. Ms. Imbriglio has more than seventeen years of banking experience including three years as a commercial banking assistant. She holds a B.S. degree in Business from Worcester State College and an M.B.A. degree from Anna Maria College.