CRDC Board of Directors & Staff
"

Elm Grove Companies has turned a building once used for drug and alcohol rehabilitation into a 32-unit mini-flat style apartments, a first of its kind in New Hampshire. With financing assistance from …

"




Read Full Testimonial
Signup for our Newsletter!
Board of Directors
| | | |
| --- | --- | --- |
| Name | Position | Term |
| Stephen Lawrence | President | 2019 |
| Stephen Heavener | Executive Vice President | no term |
| Brian Lavoie | Vice President | 2020 |
| Stephen Savoy | Treasurer | 2018 |
| Thomas Sullivan | Secretary | 2019 |
| Brad Hosmer |   | 2019 |
| Mary McLaughlin |   | 2020 |
| Jim DuBois |   | 2018 |
| John Dinkel, Jr |   | 2018 |
| Peter Cook |   | 2018 |
| Henry Veilleux |   | 2020 |
|   |   |   |
|   |   |   |
|   |   |   |
| Tim Sink | Concord Chamber Executive | ex-officio |
| Carlos Baia, Deputy City Manager | City of Concord | ex-officio |
| Nancy Merrill, Director Economic Development | City of Claremont | ex-officio |
Staff
Stephen A. Heavener, Executive Director
Mr. Heavener has nearly 40 years of economic and community development experience as Executive Director of programs in New Jersey, Vermont, New Hampshire, New Mexico, Wyoming and Virginia.. He supervises all staff, promotes CRDC financial assistance programs, assists with loan package structuring, identifies and screens potential Brownfields projects and works closely with towns, cities, and counties throughout New Hampshire on economic development consulting. Mr. Heavener also identifies and manages real estate development activities and develops new programs and policies in consultation with the Board of Directors. He earned a Masters in Public Policy from Rutgers University. He joined CRDC in November 2007. He is a native of Vineland, New Jersey.
Elizabeth M. Sweeney, Senior Loan Officer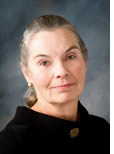 Ms. Sweeney Joined CRDC in May 2008. She is responsible for CRDC's focus on direct business lending and SBA 504 Loans, while assisting with the management of existing portfolios as well as expanded lender outreach and RLF marketing, economic development consulting, Brownfields project management and grant writing. Ms. Sweeney worked for New Hampshire Community Development Finance Authority since 1998 as manager of the CDBG grant program and NH tax credit investments. She also has worked closely with the ten Regional Economic Development Corporations throughout New Hampshire and she adds tremendous value to CRDC's efforts to broaden its collaborative activities. Sweeney has also worked as credit manager and controller for several private firms adding to her knowledge and familiarity with private business operations and finance. She also has substantial commercial lending experience having worked at First NH Bank and BankEast in Manchester and Marine Midland Bank in New York City. She earned an MBA in Finance from NYU.
Jennifer Boulanger, Loan Officer
Mrs. Boulanger joined CRDC in October, 2010 as a loan officer. She has deep commercial lending experience working for banks in the Southern, Seacoast, Central and Lakes regions of New Hampshire. For more than fifteen years Boulanger has focused on providing commercial lending services to NH based businesses as a credit analyst, underwriter, portfolio manager, business development officer and risk manager. Jennifer will focus on direct business lending and SBA 504 loans, while assisting with the management of existing portfolio borrowers. She will also work on expanded lender outreach and loan fund marketing throughout central and southern New Hampshire. Jennifer also manages the loan underwriting contracts with the City of Nashua and the Manchester Development Corporation. She received her Bachelor's of Science Degree and Master's of Business Administration Degree from the University of New Hampshire.
Kimberly Imbriglio, Loan Portfolio Manager
Ms. Imbriglio joined CRDC in August 2005. Her primary duties include servicing both CRDC's SBA 504 and Economic Development loan portfolios, preparing loan closing documentation, and attending loan closings. She also manages all CRDC bookkeeping tasks. Ms. Imbriglio has more than seventeen years of banking experience including three years as a commercial banking assistant. She holds a B.S. degree in Business from Worcester State College and an M.B.A. degree from Anna Maria College.
Chris Wellington, Business Development/Project Management Officer
Mr. Wellington joined CRDC in June 2017 as its first dedicated business development and project management officer. Chris is responsible for establishing relationships with CRDC's lending partners to identify lending opportunities. He is also charged with working with our municipal partners and the real estate development community to identify impactful real estate projects where CRDC's financial assistance might add value to the project. CRDC is focused on high impact investments in Claremont, Newport, Franklin, Concord and Manchester. Chris previously served as the executive director of the Grafton Regional Development Corporation, and as a business development specialist for the State of New Hampshire Department of Economic Development. Chris earned a Masters of Public Administration from the University of New Hampshire.